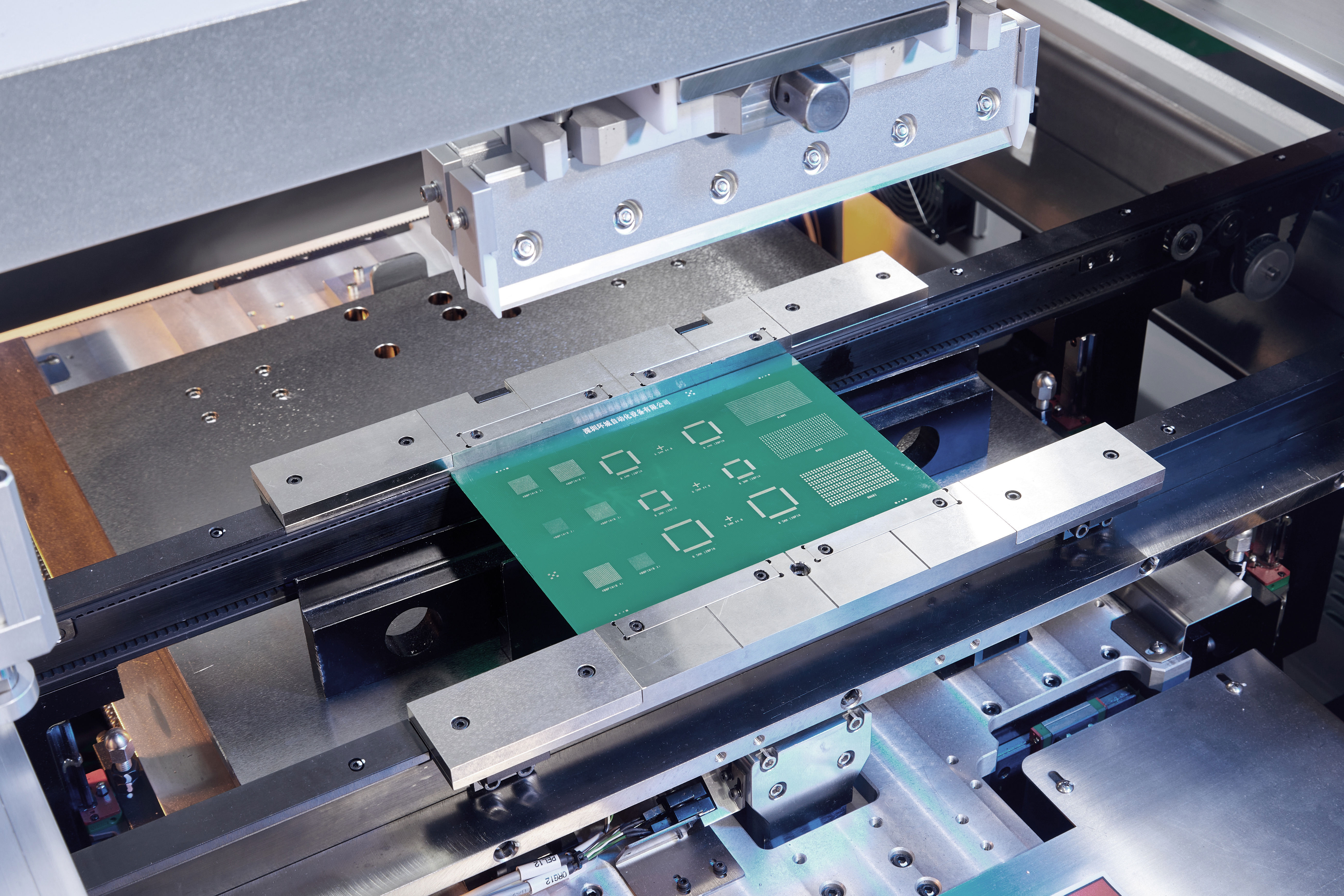 Printing without limits
Mycronic's stencil printing and jet printing platforms combine to produce any board at any speed.
Business is growing for high-mix manufacturers. Mycronic's new MYPro S series stencil printers answer this demand by adding new levels of throughput to the flexibility and quality of jet printing and 3D SPI.
The best of both worlds
To meet the needs of customers with mixed production strategies and growing batch sizes, Mycronic has added a screen printing solution to its portfolio of MYPro equipment for SMT production. Together with the new high-speed MYPro A40 pick-and-place and the full range of MYPro assembly solutions, the MYPro S series stencil printer contributes to the fastest full-line solution ever available to Mycronic customers.
When it comes to printing solder paste, nothing beats Mycronic's Jet Printer in terms of flexibility. But when deadlines are tight and batches are larger, Mycronic's new stencil printers can be added to a Jet Printer for the ultimate in speed and reliability. Working in tandem, the stencil printer brings its unbeatable cycle time for average paste deposits, while the Jet Printer handles all deposits with non-average thickness or shape with unparalleled speed and accuracy. Need to switch production? Simply replace the stencil and select the next jetting program.
Introducing the MYPro S series
Launched at Productronica 2023, the MYPro S series is a robust, highly accurate and user-friendly stencil printer. True to the MYPro production philosophy, it has been designed to enable the fastest possible changeovers and features all the functionalities expected from a modern screen printer.
In the MYPro S series, an advanced vision system ensures complete alignment between the stencil and PCB, while a ­climate control feature maintains the physical qualities of the solder paste to ensure consistent print quality. During the printing phase, squeegee pressure is permanently monitored, and any deviation is displayed on the control screen for immediate correction. Each printed board can be 2D inspected to ensure that no deposits are missing, and after each stencil cleaning phase, the stencil itself is 2D inspected to make sure it is valid for production. Traceability, an essential ­feature in the manufacturing of high-reliability electronics, is assured through automated tracing of each stencil, solder reference number and operator ID.
The printer has a robust frame with a marble support beam achieving high rigidity and long-term repeat accuracy of ± 8µm. Squeegee movement uses a ball-screw with direct servo connection which adds to long-term consistent printing. The transport rail is motorized with dual guide rails and dual ball-screw, ensuring long-term stability.
Closed-loop quality with PI series SPI
For even greater control, the MYPro S series screen printer could be interfaced with all Mycronic PI series 3D SPI models. Thanks to an optional closed loop software, the PI series 3D SPI can automatically adjust the position of the stencil in X and Y, as well as its angle of rotation. And if print quality deteriorates, the 3D SPI can be set to automatically trigger a cleaning cycle.
Available in the beginning of 2024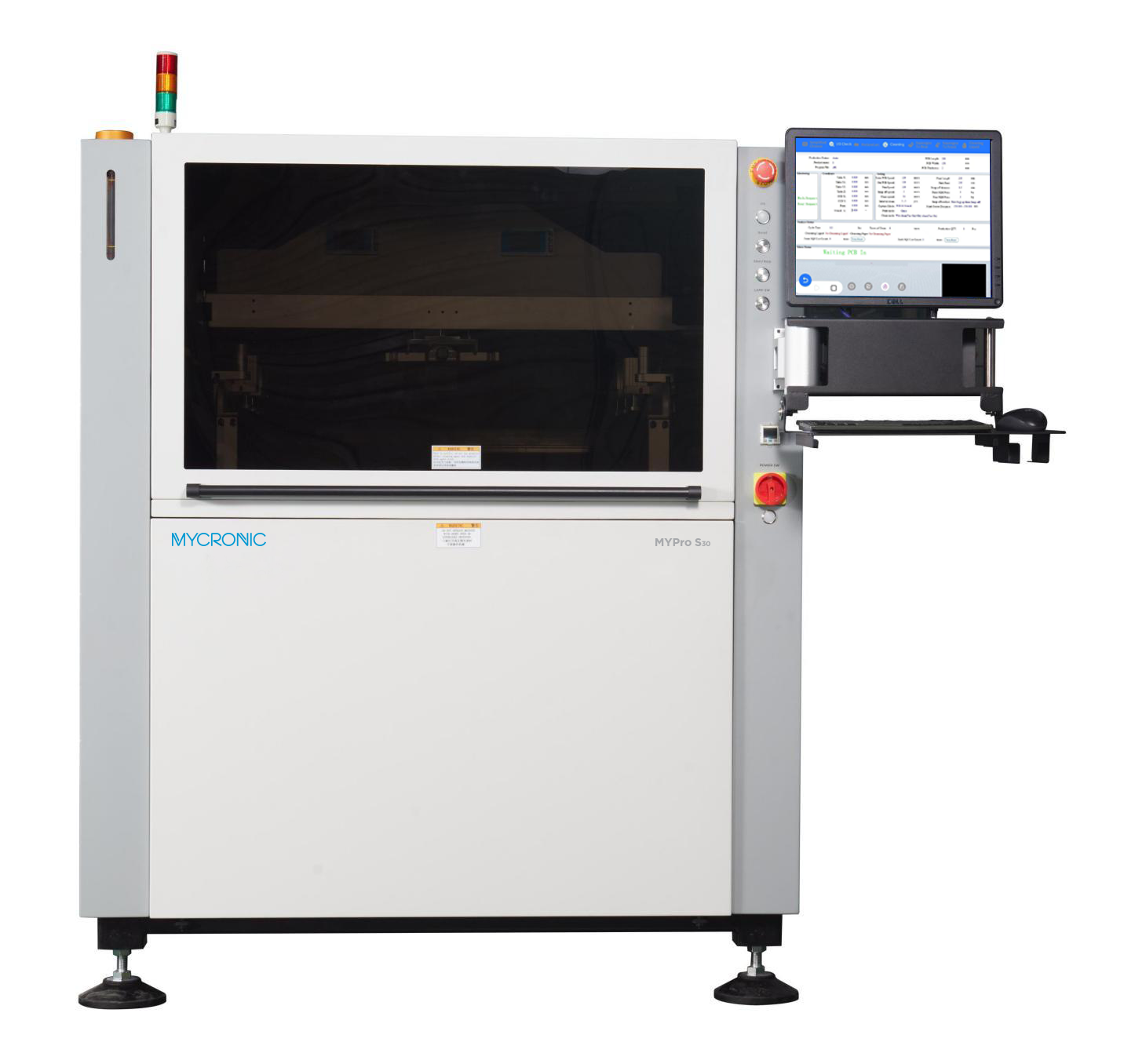 The MYPro S30, the first in the MYPro S series screen printers, will be commercially available in Q1 of 2024 in selected regions. To learn more, and for inquiries regarding availability and line integration services for the MYPro S series screen printers, Jet Printers and 3D SPI solutions, contact your local Mycronic sales representative.