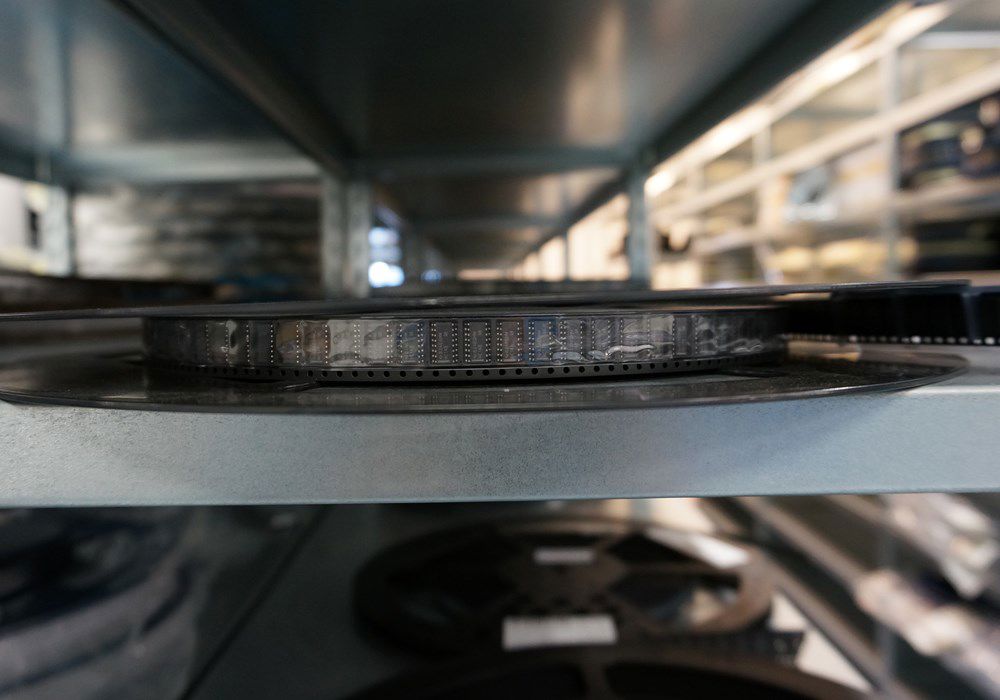 Smarter growth in the SMT factory
Building future efficiency into today's factory footprint
What happens when business is growing, components are shrinking, and both staff and production space remain the same? A visit to Allelektronik shows that the answer lies in the thoughtful development of smarter planning systems, advanced equipment and cutting-edge automation solutions.
A climate of innovation
Allelektronik, based in southern Sweden, has pushed to stay at the forefront of electronics assembly since its founding in 1975 when the company assembled bimetal thermostats for radiators. It has continuously expanded and invested in new equipment to meet changing technology requirements ever since and have also expanded their factory's footprint about eight times over the years.
In recent years, the pace of change has only accelerated. For Allelektronik's customer, a leading manufacturer of air conditioning, climate control and other facility automation systems, this means adapting to entirely new market demands. Energy prices are rising. The climate change is a growing concern. And a new generation of intelligent indoor climate control systems will play a major role in meeting increasingly strict sustainability goals.
"It's exciting to be part of this change," says co-owner Mats Landström. "We've always worked closely with our customer to build products that really make a difference in people's lives. There's no question that advanced electronics will be critical to solving some of our biggest energy challenges. When you look at all the energy that goes into heating and cooling a building, it's pretty clear that efficient controls can make a huge positive impact."
Smart planning for new product mixes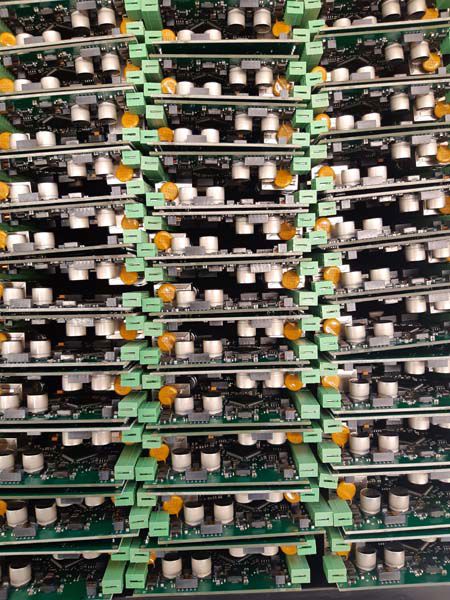 Today, Allelektronik produces some 130 PCB platforms for use in more than 900 customer products. Shorter batches bring longer kitting times. And older products can remain in production for more than 15 years. With such a diverse product mix, the company is struggling to balance expanding component storage needs, just-in-time production demands and several changeovers a day.
Smart planning, based on several key considerations, is essential to handling this growing complexity:
A family kit of three or four products is typically prepared, and production planners try to maintain an optimal mix of longer and shorter batches.
Another family kit, for the most common products, is usually stored next to the line to keep production running in case of unexpected slowdowns in incoming orders.
Allelektronik has full insight into the customer order plans and supplies, is responsible for restocking and continuous efficiency improvements, and can plan their production accordingly.
Maintaining high quality and profitability
Currently, just one in every thousand PCBs fails in functional testing. But the continuing miniaturization of components will eventually require more sophisticated quality systems and refined production processes. The use of BGAs in some products, for example, has led to a growing need for 3D Solder Paste Inspection and X-ray inspection systems.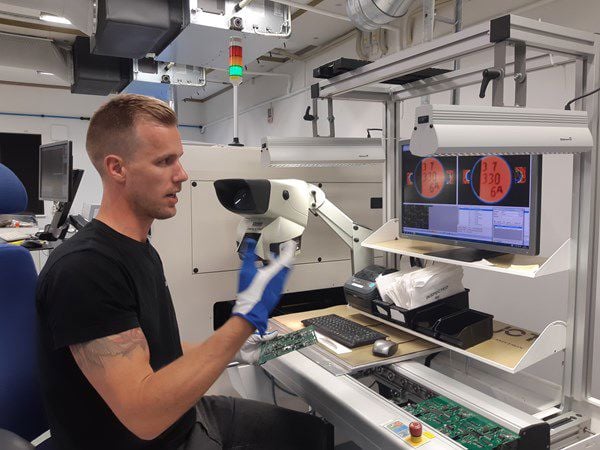 Over time, the company has become more involved in the design and industrialization of new products. Through Design for Manufacturing, or DFM, Allelektronik can continue to ensure that each new customer product is produced with the highest levels of quality and efficiency.
The Industry 4.0 roadmap
Next on the agenda is to explore the possibility of using collaborative robots for repetitive tasks such as testing, packing and possibly even programming circuits. Rather than reduce workforce, the owners hope to automate production in order to gradually grow their production volumes with the existing factory set-up.
In terms of material flow management, when new products continue to enter the assembly floor and the stock of parts to track and manage grows by the minute, a higher degree of storage automation could potentially help reduce stock levels further while freeing up valuable staff time.
Paving the way for future growth
Naturally, all of these production enhancements will be implemented, tested and refined to maintain the highest possible space and equipment productivity. The skill and experience of the operators have always been central, and through combining it with intelligent planning, state-of-the-art equipment and advanced automation systems, Allelektronik will continue to build a strong foundation for future growth.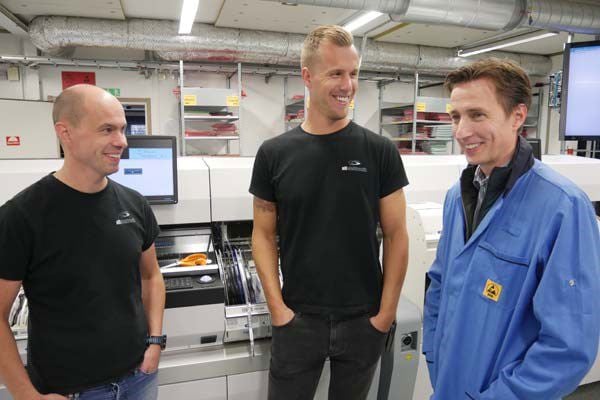 Per Edin, Mycronic, with Mats and Niklas during a visit to Allektronik
Facts about Allektronik
Electronics manufacturer of climate systems
Founded in 1975 in southern Sweden
Mycronic customer since 2000
Installed machines: three MY300 pick-and-place machines (HX/HX/EX)
Produces 130 PCB platforms and 900 products