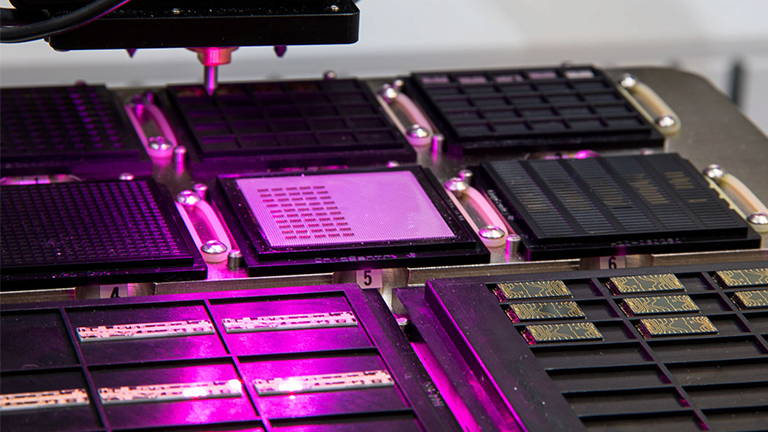 About Die bonding
Under the MRSI brand, we offer industry-leading die bonders, with superior flexibility, ultra-high-accuracy, and multiple process options. Our product's' value is further illustrated by our 35+ years of experience in the industry in tandem with our 24/7 reliable field operations. MRSI values our customers, and our top priority is meeting our customer's needs down to the finest detail.
What is die bonding?
Die bonding is a manufacturing process used in the packaging of semiconductors. It is the act of attaching a die (or chip) to a substrate or package by epoxy or solder, also known as die placement or die attach. The process starts with picking a die from a wafer or waffle pack and then placing it at a specific location on the substrate. The die is placed into a previously dispensed epoxy or placed into solder (eutectic).
Learn more about our industry-leading die bonders and epoxy dispensers
In the case of eutectic die bonding, the process involves heat and gas management to control the solder's reflow conditions. Die bonding usually involves high accuracy at 1 to 3 µm, much higher than other packaging processes. Fully automatic high accuracy die bonders that are capable of epoxy and eutectic die bonding are the lifeblood of the modern semiconductor industry.
MRSI offers a broad suite of products across the volume spectrum, from research and development, low-to-medium volume production, and high-volume manufacturing, the MRSI product family can guarantee customer satisfaction down to the most niche details.