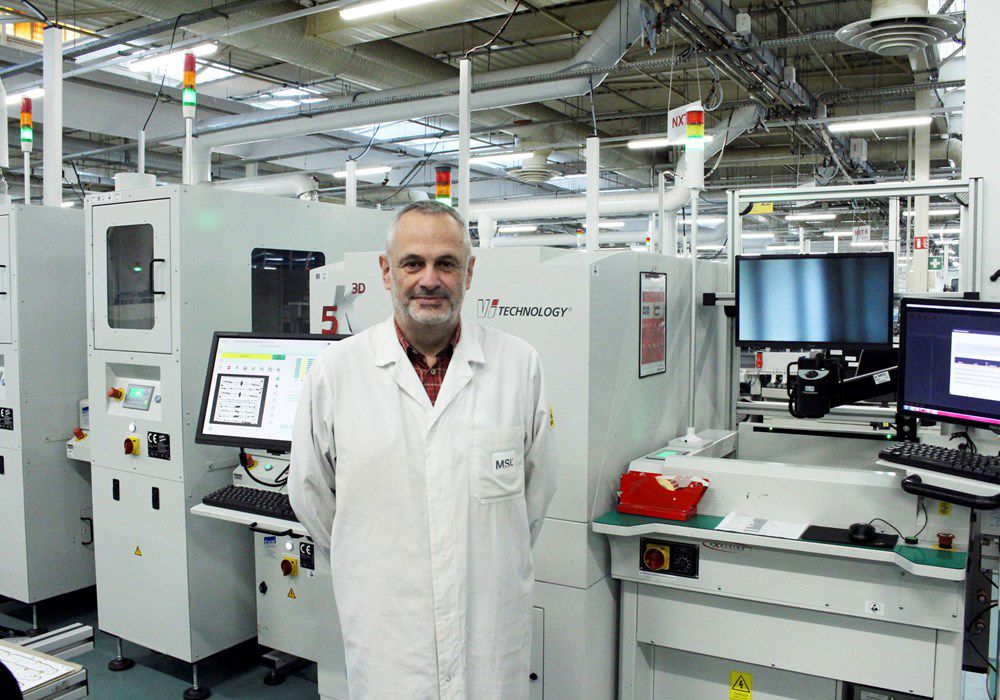 Autonomous inspection
Towards a zero-defect future in automotive electronics
21st century industries demand 21st century manufacturing solutions. With the help of the latest 3D automated optical inspection systems, MSL Circuits – an ALL Circuits company, is helping leading automotive manufacturers make a flawless transformation to the era of electric vehicles.
The electric vehicle revolution is well under way. And many automotive manufacturers are transforming almost overnight. The gearbox, once the beating heart of the industry and the focus of vast amounts of manufacturing expertise, has given way to the circuit board, the brain behind the cars of tomorrow.
Driving the evolution
Most automakers, of course, have already geared up for disruption. Thanks to strategic partnerships with companies like MSL Circuits, leading global carmakers have secured access to valuable expertise in the design, supply, industrialization and production of automotive electronics.
Part of the ALL Circuits group, a top 50 global EMS, MSL Circuits represents a leading center of expertise in automotive electronics assembly. The MSL Circuits' plant is located near Orleans, France and operates ten SMT lines to produce more than 100,000 finished products a day, amounting to some 2.5 billion components per year.
To guarantee non-stop production of such massive volumes is a challenge in itself. Maintaining the strict quality standards demanded by automotive customers is another. This is where Mycronic's 3D Automated Optical Inspection (AOI) systems come in, enabling each production line to combine the highest levels of quality, automation and control.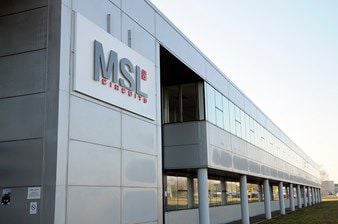 Maintaining near-perfection
Until recently, MSL Circuits had relied on 2D AOI systems from Mycronic to ensure the highest possible quality standards. The plant upgraded eight of its lines to 3D AOI systems with aplan to add 3D capabilities to all its production.
"We had an excellent level of performance for our 2D test coverage," says Alain Picault, Process Manager, MSL Circuits. "We had a First Pass Yield (FPY) of over 96 % for a full panel and well over 99% on individual circuits. So our lines were calibrated to maintain that level of performance."
The evaluation of 3D AOI systems was a lengthy process, and one that generated a great deal of insights. For one, MSL Circuits quickly learned that an efficient state-of-the-art 3D AOI has to seamlessly combine the best algorithms from both 3D and 2D worlds. "The evaluation has shown us that in some configurations, 2D tests are more efficient than 3D tests — it all depends on the type of defect you are looking for," says Alain. "To meet the levels of quality and reliability demanded by our automotive customers, we needed to maintain our 2D test coverage, while adding 3D testing but without degrading the FPY. And if you want to implement 3D AOI, you need to make sure it keeps up with your cycle time."
By the end of the evaluation period, it was clear that the 3D AOI from Mycronic was the only system capable of supporting the same level of FPY as the plant's 2D AOIs, while adding 3D test coverage. "With the other 3D AOI brands, it would have taken years of development and adjustment before we could expect to reach the same level of FPY as with our former 2D AOI," explains Alain.
The learning library
Key to the 3D AOI's performance, and a crucial factor for many of Mycronic's inspection customers, is an advanced auto-check function. Rather than running test boards with pre-fabricated defects, a common industry standard, this performs software qualification of all actual defects, stores them in the library, and virtually re-verifies program inspection performance against library changes. It's a self-learning system based on real production issues — a major safeguard against regressions due to updated component libraries, and a huge time-saver on the factory floor.
"The automation of these library "self-checking" functions saved us an enormous amount of time in production," says Alain. "Otherwise, we would have dedicated operators for these tasks. This logic of fine-tuning the central library to each individual PCB without regression, with qualification and memorization of true and false defects, opens the way to artificial intelligence which in the future will use neural networks to analyze images and sanction defects on behalf of the operators."
Another crucial requirement, particularly for a plant of this scale, was data portability. Since an average series might consist of up to 500,000 units, extremely high levels of automation need to be balanced across multiple lines, with multiple inspection systems. "At the SMT stage, a series is generally split over several lines, while the back-end process is managed on a single dedicated automatic line," says Alain. "It is therefore essential that our AOI inspection programs are portable from one line to another in one click."
All-terrain flexibility
At the end of the day, the 3D AOI system has proven to be a highly flexible tool for a highly demanding production environment. "The software toolbox proposed by the system allows us to deal with all types of components and PCB topologies, by adapting the test algorithms to the subject to be inspected," explains Alain. "It's a truly 'all-terrain' software technology. This allows us to be creative, and to always have an inspection solution, adapted to our needs, in all circumstances. It's these two very powerful features — openness and flexibility on the one hand, and a centralized library on the other — that allow us to implement a 3D AOI in a high-volume/mid-mix production context."
Thanks to the system's advanced machine learning algorithms, the same advantages hold true for high-mix manufacturers with lower production volumes. By combining features such as Auto Matchmaker and Auto Teach, even the most complex board designs can be rapidly introduced and programmed while maintaining inspection efficiency across varying batch sizes. "With this kind of machine learning on your production line, I can easily see how this product would be a huge advantage for low- and mid-volume high-mix producers," Alain concludes.
FACTS:
MSL Circuits
• 600 employees
• 10 SMT lines
• 89,000 PCBs/systems produced daily
• Single-digit PPM, complying with top automotive quality standards