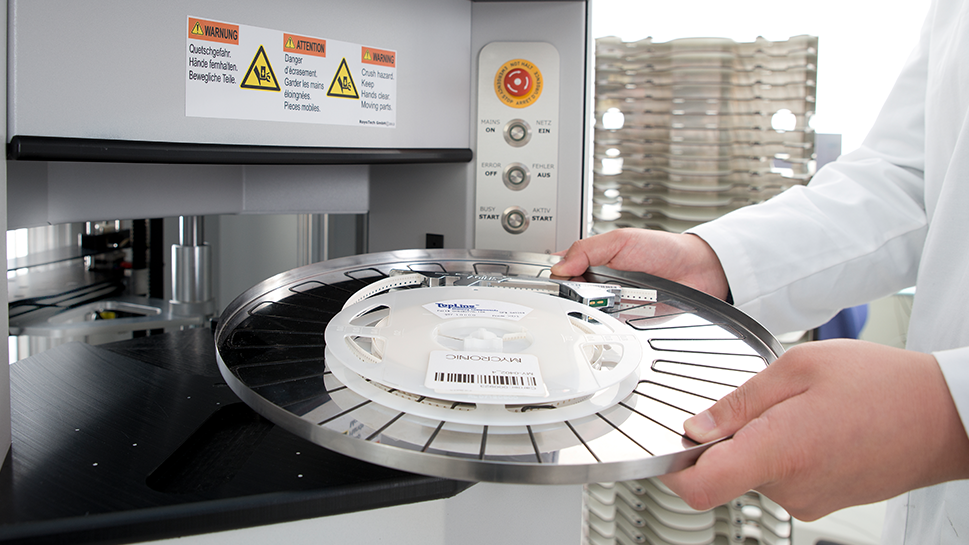 Material handling
Information when you need it and where you need it
Missing material or insufficient quantities are the single most common cause of unexpected machine downtime in SMT assembly. Whether it's the result of misplaced material, poor stock accuracy or incorrect labeling, the consequences are always severe: wasted production time and missed delivery dates. Not to mention the cost of reworking or scrapping when the wrong component ends up on a board.
Challenge
Material and information are the bottlenecks
Modern electronics production can be an extremely complex environment with thousands of part numbers, and new products and revisions almost every day. With an ever-changing production schedule, there are new challenges waiting around every corner. On top of this, customers demand an instant response even when production levels peak. Without the right tools, this complexity inevitable leads to frequent production slowdowns and low levels of equipment utilization.
Solution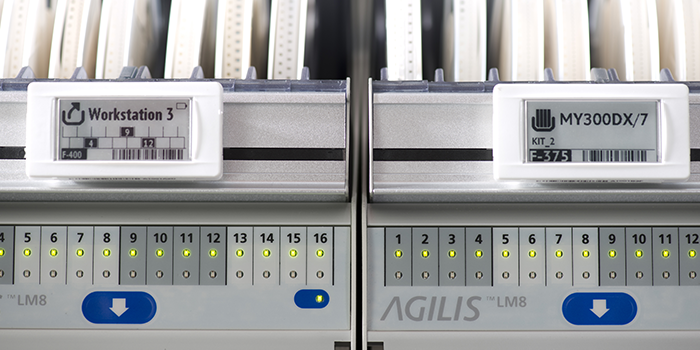 Track every movement
A factory-wide component database is the backbone of our material handling system. Combined with a unique carrier ID label, the system can track the quantity and current location of each individual reel, stick or tray. Pick-and-place machines report actual part consumption as they run and every stock movement is recorded in the database. Special location barcodes can be used to also track material in dry cabinets, repair areas and hand-mount stations.
Handle any batch size
With better stock accuracy comes better planning. But Mycronic's planning tool goes far beyond that. Our Job Sequence Optimizer calculates the best production sequence and changeover strategy for any mix of products and batch sizes. It's built to help SMT manufacturers respond quickly to changes while maintaining the highest possible uptime and volumes.
Information when you need it – where you need it
Kitting guidance and feeder loading instructions are presented to the operator in a fully WYSIWYG graphical user interface. The same goes for replenishment instructions. Our software shows which component is about to run out next and where you'll find a replacement. It can even ask the MYTower to delivery it automatically! Our latest innovation, the Agilis Smart Bin, makes it possible to send changeover instructions directly to electronic labels that are attached to each individual material bin.
Automated handling of Moisture Sensitive Devices
Combined with one or several MYTowers, our material handling system also gives you full support for storing and handling Moisture Sensitive Devices. Each reel's individual floor life timer automatically starts and stops as the material is moved in and out of the storage unit. Should a component's specified time limit expire, the system will immediately warn any operator trying to load it onto a feeder.
Promise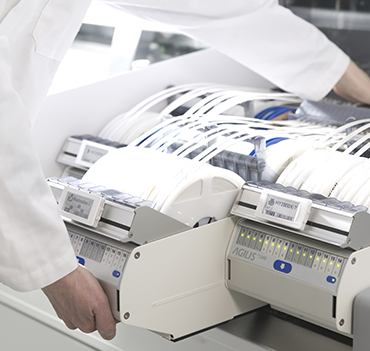 When it comes to material tracking and stock accuracy, Mycronic's solutions offer the industry's most precise and error-free systems. From barcode feeder loading and instructions on electronic labels to compact, automated storage units – material handling has never been this simple! Add our powerful Job Sequence Optimizer and you have a highly automated planning, kitting and replenishment aid that eliminates unnecessary feeder movements to help you save both time and resources.