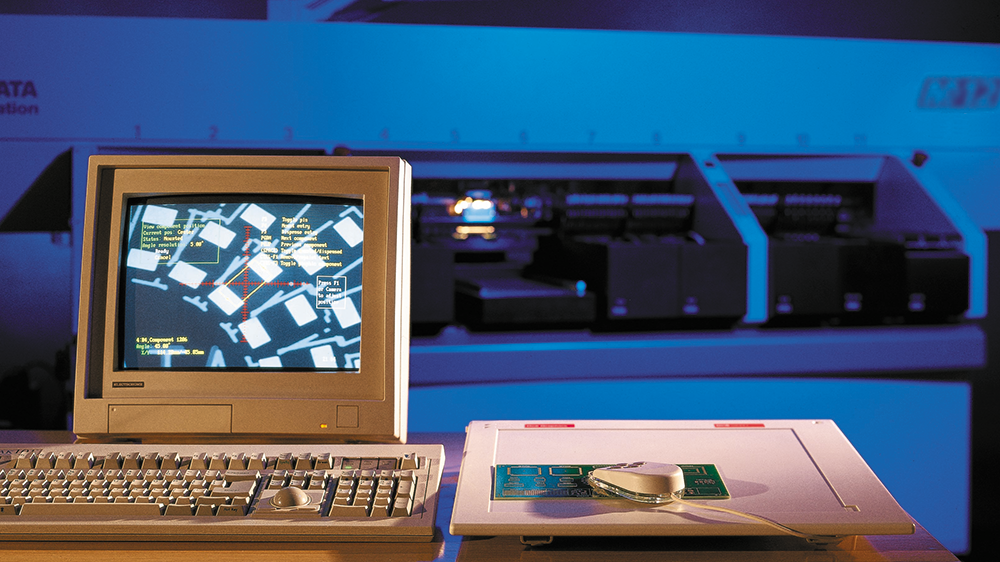 History
The story of Mycronic is a tale of obsessive innovation, entrepreneurship and supporting our customers to bring electronics to life. It is a tribute to how advanced R&D can not only drive change and give a manufacturing edge, but benefit all of society.
Two enterprises, one purpose
Mycronic today is largely the result of two companies (plus acquisitions) in quite different areas of electronics production that joined forces in 2009. Common roots go back to Swedish innovations in the 1970s and 1980s and the emergence of low-cost microprocessors and semiconductors. The company grew up with the consumer electronics and later digital device industry, helping to drive change. It now operates as one unified and listed company with a common brand and purpose.
Sharper displays and semiconductors
Micronic Laser Systems, now our Pattern Generators division, produces advanced laser writers for photomasks for displays and semiconductors. Its unique, cost-efficient technology came out of R&D at Sweden's Royal School of Technology (KTH). Today, it remains the industry standard behind billions of flat screen TVs, iPhones and more.
Faster changeovers in electronic assembly
The other company, formerly MYDATA automation, now the Assembly Solutions High Flex division, offers flexible printed circuit-board (PCB) assembly solutions, including storage, dispensing, inspection, and jet printing. It was also started by engineers who spotted a need for high-precision and flexible production of shorter mixed batches. The division includes the acquired companies Vi Technology and RoyoTech.
Higher volume consumer electronics
Our Assembly Solutions High Volume division was created a few years after the acquisition of Axxon, the world-leading manufacturer of dispensing and conformal coating systems based in Shenzhen, China. Proximity to China's consumer electronics industry provided a clear focus for the division. In 2021 Axxon acquired Huan Cheng Xin.
Global technologies with growth potential
Later acquisitions included, among others, high-precision die bonding systems for electronics packaging (MRSI, USA, acquired 2018) and electrical verification for bare PCB boards and substrates (atg L&M, Germany, acquired 2021). These companies were organized under our Global Technologies division.
Central to all success has been foreseeing and adapting to change, innovating, and seizing market opportunities.
Mycronic's history begins in the 1970s


For larger image